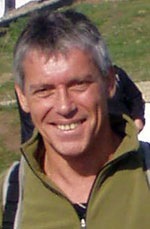 Alan's affinity with the natural world stems from childhood. He studies his subjects with a restless excitement and says, "ecology and the diversity of habitats and their species should be of utmost importance. When you have studied a species in depth, its life style, and how it's adapted to its environment, then it becomes a fascinating subject.
"The natural world is not always beautiful and wonderful, but it is amazing. When you answer one question it creates a half dozen more, and this is why I will never tire of it."
Alan roams the green areas of the cities and the countryside where he finds himself recording in diaries all the species that he sees. He has been doing this kind of thing for many years and has, through experience, become very adept in his knowledge of his subject. In his early years he just recorded the species and drew small doodles. From this to sketches and then finally to the full-blown artworks that you can see today.
Alan spent most of his early working life in the construction industry but has worked for the
National Trust at Saltram House
in Plymouth. A self-taught artist, he painted intermittently and found his love of nature a growing passion.

He decided to take five years out to make a dream a reality. Alan was accepted at
Plymouth Art College
on the merit of his art and nature writings. Graphic Design was the doorway into Illustration, and after two years study he achieved the highest award (Distinction) for his work. He applied for a place at
Falmouth College of Art
and was accepted. There, Alan specialized in Natural Scientific Illustration and graduated after three years with a Bachelor of Arts (2.1).
Alan has had numerous acknowledgements for his interest in wildlife.
He has been in charge of a wildflower meadow for a season, and has appeared in local and national newspapers. A small piece of writing was printed in the
BBC Wildlife Magazine
and
Sea Angler
, and he used to write a regular wildlife newsletter for a specific Urban Wildlife Reserve.
A business trip to New York to show his work to various publishers and agents was conducted early in 2004. This proved an invaluable experience. Many establishments including
Time Warner Books
took copies of his work for potential future work. Other prestigious organisations that agreed to interview Alan on a portfolio review included The
Natural History Museum of New York
, the
Art and Illustrators Agency of Richard Solomon
and
American Artists
.

Alan received an invitation to attend the world famous
New York's Illustrators
Annual Meeting, and he gladly accepted.
His artwork has been shown in exhibitions in Plymouth, Falmouth and the
New Designers
Show in Islington, London.
Alan now resides in Falmouth where he works from home. He is currently planning his next project, his own natural history book using his own diaries and sketch books to add that personal touch.